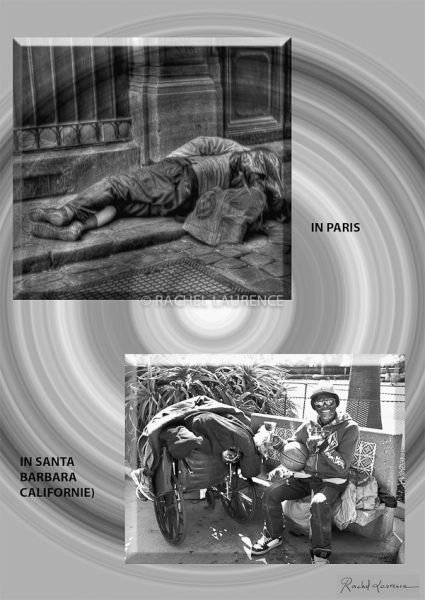 Click on the picture to see it in high definition
A paris :
Survivre lorsqu'il devient tricard
D'une humanité prétendue,
Il ne sait même plus dire j'en ai marre
Puisque l'égo n'existe plus

Alors le p'tit homme continue
A se répandre sur le bitume
Tel un vieux débris vermoulu
Il n'attend rien, il s'accoutume... (R.L.)

A Santa Barbara :
Le climat est plus favorable dans tous les sens du terme!!!


| | |
| --- | --- |
| Author | Rachel Laurence |
| Created on | N/A |
| Posted on | Sunday 08 January 2012 |
| Dimensions | 425*600 |
| File | homeless_copie.jpg |
| Filesize | 165 Kb |
| Tags | |
| Categories | |
| Visits | 58328 |
| Average rate | no rate |
| Rate this picture | |
---